Date:
16 November 2001 |
Season:
London Film Festival 2001
|
Tags:
London Film Festival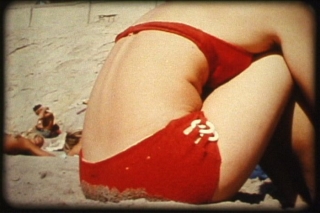 FORM AND PHENOMENA
Friday 16 November 2001, at 1:30pm
London National Film Theatre NFT3
A cinematic pageant book-ended by two new works of the visual artist Michael Snow, who was recently honoured with a retrospective at the Arnolfini Galleries in Bristol. Prelude is a parody of trailers, a metaphysical teaser about timing commissioned by the Toronto Film Festival. Ken Jacobs may be one of the most unlikely filmmakers to have ventured into digital video but Flo Rounds A Corner demonstrates a persuasive grasp of the medium. Using a system patented as 'Eternalism', both throbbing and molecular, Jacobs freezes and unfolds time. In his own voyage into deep cinema, Scott Stark constructs motion wonder from a set of anonymous 3D photos of a California beach. Flicker is also utilised in Clip (4000f), a mathematically edited contemplation on the death penalty. Each film by Robert Breer is a cinematic jewel, and his animated stroll through the alphabet is no exception. Using the medium in the message, Exposed toys with the voyeuristic nature of cinema, sprocket-holes masking the swelling image, while the melodrama Maria Movie is set among the grit and shards of cinemas past and present. Also using found footage, Tierney and Godovannaya bring together Jackie Chan, Margaret Thatcher and several serpents in a paean to St. Patrick. The Living Room is a sequence of baffling modulations and transformations of characters and objects, a stand-alone section from Snow's forthcoming feature Corpus Callosum.
Michael Snow, Prelude, Canada, 2000, 3 min
Vincent Grenier, Colour Study, Canada, 2000, 4 min
Ken Jacobs, Flo Rounds A Corner, USA, 1999, 8 min
Scott Stark, Angel Beach, USA, 2001, 25 min
Robert Todd, Clip (4000f), USA, 2001, 3 min
Robert Breer, Atoz, USA, 2001, 5 min
Siegfried A. Fruhauf, Exposed, Austria, 2000, 9 min
Jeanne Liotta, Maria Movie, USA, 2001, 8 min
Moira Tierney & Masha Godovannaya, You Can't Keep A Good Snake Down, USA/Russia, 2000, 4 min
Michael Snow, The Living Room, Canada, 2000, 21 min
Also screening: Saturday 17 November 2001, at 4:15pm, NFT3
---