Date:
13 November 2002 |
Season:
London Film Festival 2002
|
Tags:
London Film Festival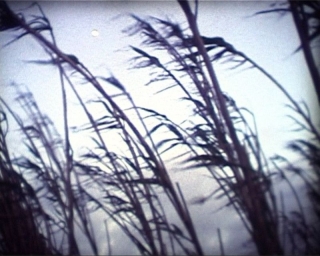 CONTEMPLATING SPACE
Wednesday 13 November 2002, at 6:30pm
London National Film Theatre NFT3
Renata Sancho, Paisagem, Portugal, 2001, 17 min
A journey from the rain forest to the beach, mostly seen from fixed viewpoints, captures the spirit of the landscape. A film notebook of a voyage inspired by the writings of Carlos di Oliveira.
Kerstin Cmelka, Camera, Germany, 2002, 9 min
By building visual architectural constructs within the camera using mattes and time-lapse, Cmelka offers us views of spaces which do not exist.
Robert Fenz, Meditations on Revolution, Part III: Soledad, USA-Mexico, 2001, 15 min
'Images of Mexico City, San Cristobal de las Casas and New York. Mexico seems timeless: past, present and future – revolution always played a role. New York gives the picture back its feeling for time and space.'
Peter Hutton, Looking at the Sea, USA-Ireland, 2001, 17 min
'A meditation on the light, colour and texture of the land and seascapes along the west coast of Ireland'. An exquisitely photographed cine-poem by Peter Hutton, whose films study the world in serene contemplation.
Nathaniel Dorsky, Love's Refrain, USA, 2001, 23 min
'One of the foremost avant-garde film-makers working today, San Francisco-based experimental film-maker Nathaniel Dorsky creates films that are silent, non-narrative and forged by seamless editing of astonishing precision. Dorsky's exquisite cinema of silence unveils the rich rewards of losing oneself in delicate framing, minute gradations of light and shadow, or the examination of the actual grain of the film stock, to arrive at the discovery of beauty in the most quotidian images. (Jytta Jensen, MoMA, New York)
Repeat Screening: Friday 14 November 2002, at 2pm, London NFT3
---