Date:
12 February 2002 |
Season:
Andy Warhol Tate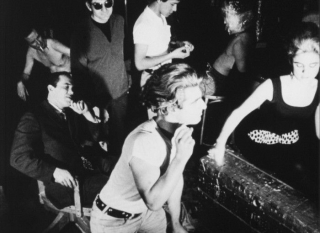 THE FILMS OF ANDY WARHOL
12 February–24 March 2002
London Tate Modern & The Scala
A season of films to accompany the exhibition Warhol, at Tate Modern, 7 February – 1 April 2002, sponsored by UBS Warburg.
Though obsessed since childhood with Hollywood and stardom, it was not until the peak of his fame that Warhol turned his creative energy to film. During an explosive five-year period from 1963–68, he released over 60 films which range from silent, fixed-frame conceptual works through to contemporary commercial 'sexploitation' films. His reputation shifted from being the world's most notorious artist to being the best-known director of 'underground movies'.
Warhol's studio, the Factory, was already a meeting place for New York's artistic elite and underground subculture, and this mixture of high and low society provided a unique repertory of screen characters. Extroverts such Warhol's assistant Gerard Malanga and the doomed socialite Edie Sedgwick, were brought together with members of New York's avant-garde film and theatre movements to star in both improvised and scripted films.
The films have gone largely unseen since Warhol withdrew them from circulation in 1972 and this long-overdue season will be a chance to assess their cultural and historical significance. Rising from the fresh explosion of pop art, and crossing the boundaries of entertainment, conceptualism and the avant- garde, the films of Andy Warhol are first class art, and top entertainment.
The Films of Andy Warhol is curated by Mark Webber. With thanks to Callie Angell, Nina Caplan, Al Rees, Michael O'Pray and Silver Smith.
The films of Andy Warhol are distributed by the Museum of Modern Art, New York. Channel 4 will broadcast a new series of three documentaries on Warhol beginning 27 January 2002.
UNPUBLISHED TEXT ON WARHOL'S FILMS
---