Date:
24 February 2002 |
Season:
Andy Warhol Tate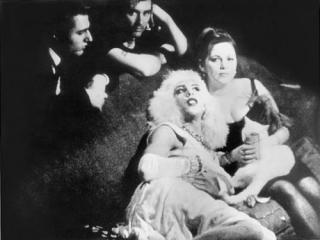 HARLOT + SCREEN TEST #2
Sunday 24 February 2002, at 3:00pm
London Tate Modern
Early sound films from the Silver Factory.
Andy Warhol, Harlot, USA, 1964, 67 min
Andy Warhol, Screen Test #2, USA, 1965, 67 min
Harlot was Warhol's first sound film, but subversively the sound is disconnected and consists of an out of frame discussion between Ronald Tavel, Billy Name and English poet Harry Fainlight. On screen four superstars (and a cat) eat bananas in an exotic tableaux vivant. Tavel directs Screen Test #2, commanding the transvestite star Mario Montez, who executes a tragic but convincing performance in the face of mockery and scorn.
---