Date:
25 January 2005 |
Season:
Owen Land
|
Tags:
George Landow
,
Reverence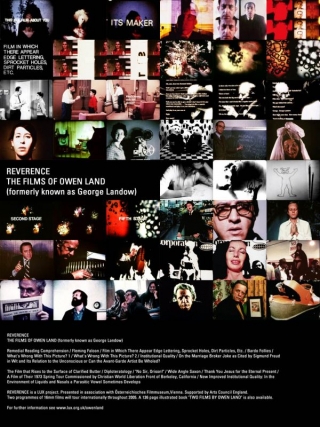 REVERENCE: THE FILMS OF OWEN LAND (FORMERLY KNOWN AS GEORGE LANDOW)
January 2005—April 2007
International Touring Programme

"My approach is to throw in everything but the kitch in sync." (Owen Land, 1997)
Owen Land (formerly known as George Landow) was one of the most original American filmmakers of the 1960s and 1970s. His works fused an intellectual sense of reason with the irreverent wit that distances them from the supposedly 'boring' world of avant-garde film.
His early materialist works anticipated Structural Film, the definition of which provoked his rejection of film theory and convention. Having explored the physical qualities of the celluloid strip, his attention turned to the spectator in a series of 'literal' films that question the illusionary nature of cinema through the use of elaborate wordplay and visual ambiguity. The characters in Land's films are often the antithesis of those we might expect to see, such as podgy middle aged men and radical Christians. He sometimes parodies experimental film itself, by mimicking his contemporaries and mocking the solemn approach of its scholars.
Land constructs 'facades' of reality, often directly addressing the viewer using the language of television, advertising or educational films, and proposes an alternative logic for a medium that has become over theorised and manipulated. He has exposed the material of film and deconstructed the process and the effect, while covering the 'big topics' of religion, psychoanalysis, commerce and pandas making avant-garde movies.
"My films are not intended as entertainment or easy viewing. They do not attempt to engage the spectator on an emotional level. Therefore audience reactions are unpredictable, especially during Diploteratology or Bardo Follies. A showing for the wrong type of audience could be commercially disastrous, though not necessarily without benefit." (George Landow, 1969)
Programme One
Owen Land, Remedial Reading Comprehension, 1970, 5 min
Owen Land, Fleming Faloon, 1963, 5 min
Owen Land, Film in Which There Appear Edge Lettering, Sprocket Holes, Dirt Particles, Etc., 1965-66, 4 min
Owen Land, Bardo Follies, 1967-76, 25 min
Owen Land, What's Wrong With This Picture 1, 1971, 5 min
Owen Land, What's Wrong With This Picture 2, 1972, 7 min
Owen Land, Institutional Quality, 1969, 5 min
Owen Land, On the Marriage Broker Joke as Cited by Sigmund Freud in Wit and its Relation to the Unconscious or Can the Avant-Garde Artist Be Wholed ?, 1977-79, 18 min
Programme Two
Owen Land, The Film that Rises to the Surface of Clarified Butter, 1968, 9 min
Owen Land, Diploteratology, 1967-78, 7 min
Owen Land, "No Sir, Orison!", 1975, 3 min
Owen Land, Wide Angle Saxon, 1975, 22 min
Owen Land, Thank You Jesus for the Eternal Present, 1973, 6 min
Owen Land, A Film of Their 1973 Spring Tour Commissioned by Christian World Liberation Front of Berkeley, California, 1974, 12 min
Owen Land, New Improved Institutional Quality: In the Environment of Liquids and Nasals a Parasitic Vowel Sometimes Develops, 1976, 10 min
Tour Dates
25/26 January 2005, Austrian Film Museum
28 January-6 February 2005, Rotterdam Film Festival
11/12 & 18/19 February 2005, London Tate Modern
25-26 February 2005, Leeds Lumen
7 March 2005, Newcastle Side Cinema
10/13 March 2005, Barcelona CCCB
17/24 March 2005, Glasgow Film Theatre
30/31 March 2005, Athens Microcosmos
6/8 April 2005, Paris Centre Pompidou
20-24 April 2005, Osnabruck European Media Art Festival
26 April 2005, Bremen Kino 46
1/8 May 2005, Sheffield Showroom
3/4 May 2005, Geneva Cinéma Spoutnik & Esba
22-29 May 2005, Zurich Videoex
23/24 May 2005, Norwich Outpost
9/16 June 2005,Strasbourg Musee d'Art Moderne et Contemporain
15-20 June 2005, Oslo Norwegian Short Film Festival, Oslo
1/5 July 2005, Frankfurt Deutsches Filmmuseum
16 July 2005, Hull International Short Film Festival
27 July-8 August 2005, Brisbane International Film Festival
14/15 August 2005, Melbourne Australian Centre for the Moving Image
3 September 2005, Sydney Performance Space
13/20 September 2005, University of Wisconsin Union Theatre
26 September 2005, Lisbon Biennale
1/8 October 2005, Chicago Filmmakers
6/20 October 2005, Columbus Wexner Center
14/16 October 2005, San Francisco Cinematheque
25/26 October 2005, Portland Cinema Project
2-27 November 2005, Whitney Museum of American Art, New York – exhibition
1 December 2005, Syracuse University
10 December 2005, Pleasure Dome, Toronto
22/29 January 2006, Los Angeles Filmforum
18/19 March 2006, Buffalo Hallwalls
16 April 2007, Cambridge Harvard Film Archive
REVERENCE is a LUX project in association with Österreichisches Filmmuseum, Vienna. Curated by Mark Webber. Supported by Arts Council England. The films of Owen Land have been preserved by Österreichisches Filmmuseum, Vienna, in co-operation with Anthology Film Archives (New York), Haghefilm (Amsterdam) and Listo-Film (Vienna). Film stills © 2004 Owen Land & Österreichisches Filmmuseum, Vienna. All stills created by Georg Wasner. All uncredited quotations by Owen Land (formerly known as George Landow).
---