Date:
26 January 2005 |
Season:
Owen Land
|
Tags:
George Landow
,
Reverence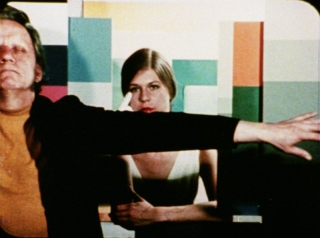 REVERENCE: THE FILMS OF OWEN LAND (FORMERLY KNOWN AS GEORGE LANDOW): Programme Two
January 2005—April 2007
International Tour

Diploteratology was produced by burning celluloid to create abstract, organic imagery. As well as exploring the material of cinema, Owen Land has exposed film's innate ability to transcend the moment and propose surrogate 'facades' of reality. In Wide Angle Saxon, an ordinary, middle-aged man undergoes a conversion experience whilst watching an avant-garde film, and in New Improved Institutional Quality, a similar character undertakes an IQ test which takes him deep inside his imagination. A sequence of works from the mid-1970s arise from the filmmakers' inquiry into Christianity, but are far from evangelical.
Owen Land, The Film that Rises to the Surface of Clarified Butter, 1968, 9 min
Owen Land, Diploteratology, 1967-78, 7 min
Owen Land, "No Sir, Orison!", 1975, 3 min
Owen Land, Wide Angle Saxon, 1975, 22 min
Owen Land, Thank You Jesus for the Eternal Present, 1973, 6 min
Owen Land, A Film of Their 1973 Spring Tour Commissioned by Christian World Liberation Front of Berkeley, California, 1974, 12 min
Owen Land, New Improved Institutional Quality: In the Environment of Liquids and Nasals a Parasitic Vowel Sometimes Develops, 1976, 10 min
PROGRAMME NOTES
---