Date:
25 January 2005 |
Season:
Owen Land
|
Tags:
George Landow
,
Reverence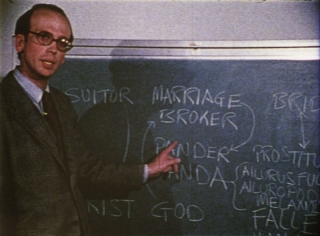 REVERENCE: THE FILMS OF OWEN LAND (FORMERLY KNOWN AS GEORGE LANDOW): Programme One
January 2005—April 2007
International Tour

With Fleming Faloon and Film in Which There Appear, Owen Land was one of the first artists to draw attention to the filmstrip itself. Films like Remedial Reading Comprehension and Institutional Quality question the illusionary nature of cinema through the use of word play and visual ambiguity. By using the language of educational films he proposes an alternative logic for a medium that has become over theorised and manipulated He often parodies avant-garde film itself, mocking his contemporaries by alluding to their work (and previous films of his own), and also by imitating the serious approach of film scholars. On the Marriage Broker Joke manages to combine Japanese marketing executives, pandas, Little Richard, Liberace and Freud.
Owen Land, Remedial Reading Comprehension, 1970, 5 min
Owen Land, Fleming Faloon, 1963, 5 min
Owen Land, Film in Which There Appear Edge Lettering, Sprocket Holes, Dirt Particles, Etc., 1965-66, 4 min
Owen Land, Bardo Follies, 1967-76, 25 min
Owen Land, What's Wrong With This Picture 1, 1971, 5 min
Owen Land, What's Wrong With This Picture 2, 1972, 7 min
Owen Land, Institutional Quality, 1969, 5 min
Owen Land, On the Marriage Broker Joke as Cited by Sigmund Freud in Wit and its Relation to the Unconscious or Can the Avant-Garde Artist Be Wholed ?, 1977-79, 18 min

PROGRAMME NOTES
---