Date:
17 March 2002 |
Season:
Andy Warhol Tate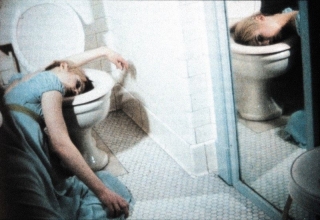 POOR LITTLE RICH GIRL + LUPE
Sunday 17 March 2002, at 3:00pm
London Tate Modern
At home with Edie Sedgwick.
Andy Warhol, Poor Little Rich Girl, USA, 1965, 33 min (double screen)
Andy Warhol, Lupe, USA, 1965, 73 min
Warhol spoke of filming twenty-four hours in the life of Edie Sedgwick and these two films may have formed part of the project. Each shows the 1965 Girl of the Year at home, waking up, applying make-up, getting dressed. One reel of Poor Little Rich Girl is inexplicably, but doubtless intentionally, out of focus. Lupe, shot in sumptuous colour, alludes to a re-enactment of the tragic death of actress Lupe Velez, as Edie ends each reel slumped over a toilet bowl.
---