Date:
17 November 2001 |
Season:
London Film Festival 2001
|
Tags:
London Film Festival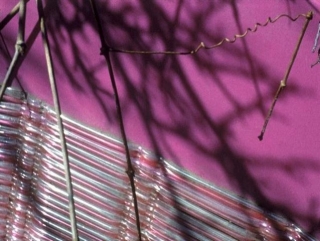 PERSONAL PERCEPTION
Saturday 17 November 2001, at 11pm
London National Film Theatre NFT3
The independent, privately produced film offers a valuable opportunity to explore personal viewpoints on life and the three filmmakers in this programme investigate this possibility in unique and unconventional ways. Nathaniel Dorsky comments that "the underlying motivation is the delicate reveal of the transparency of presence, our tender mystery midst the elaborate unfolding of the tree of life". His new film Arbor Vitae is a delicate reflection on the relationships between humanity and nature. By contrast, Heinz Emigholz combines dramatic and documentary segments in a cool and controlled manner. The Miscellanea series consists of studies of art and architecture shot between 1988-97 and form part of the ongoing film cycle Photography and Beyond. The electro-acoustic composer André Almuró began to make films in his 50s and has lately developed a singular style of 'haptic' filmmaking in which he chronicles his personal erotic encounters. Working in 8mm, he uses pixillation, slow motion and single-framing to crystallise a unique approach to light and the body, which is accompanied by expansive electronic sound.
André Almuró, Entelechie, France, 2000, 20 min
Nathaniel Dorsky, Arbor Vitae, USA, 2000, 28 min
Heinz Emigholz, Miscellanea (I), Germany, 1998-2000, 20 min
Heinz Emigholz, Miscellanea (II), Germany, 1998-2000, 19 min
Also screening: Sunday 18 November 2001, at 12pm NFT3
---