Date:
15 November 2002 |
Season:
London Film Festival 2002
|
Tags:
London Film Festival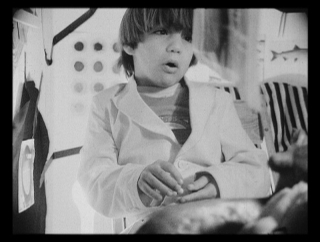 PEGGY AND FRED IN HELL
Friday 15 November 2002, at 4pm
London National Film Theatre NFT1
Leslie Thornton, Peggy and Fred in Hell, USA, 2002, 100 min
Begun in 1984, Peggy and Fred in Hell originally existed as an open-ended sequence of episodes continually shown as works-in-progress. Leslie Thornton has now assembled this definitive feature-length videofilm; an unsettling glimpse into a strangely twisted world which is not so unlike our own. Peggy and Fred, two distinctly American children brought up on a diet of movies, television and junk food, permeate the film with a string of disconcerting dramatic or improvised vignettes, punctuated by carefully arranged found footage and re-appropriated (often instantly recognisable) soundtracks. This film is utterly peculiar, occasionally displaying whiffs of Jack Smith, David Lynch, Harmony Korine, Dogme and Science Fiction while retaining its own unique mystery and allure. As the two young protagonists wander though their surreal, post-apocalyptic world, nature and decay oppose technology in a cathartic manifestation of fractured modern life. It's as though they were the only two people left alone on the planet, raising themselves in bewildered naiveté; free and spontaneous. Life can be strange: 'Have a nice day alone'.
Also Screening: Saturday 16 November 2002, at 11pm, London NFT1
---