Date:
12 November 2002 |
Season:
London Film Festival 2002
|
Tags:
London Film Festival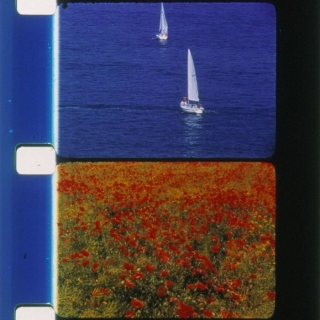 NATURAL BEAUTY
Tuesday 12 November 2002, at 2pm
London National Film Theatre NFT3
Diane Kitchen, Wot the Ancient Sod, USA, 2001, 17 min
'As delicate in its observation as it is magnificent in its discoveries, Wot the Ancient Sod is a walk through the woods, a survey of intimate scrutiny alert to the unconsidered splendours of the colours, forms and spaces comprising our natural surroundings.' (Carl Bogner, Woodland Pattern Experimental Film Series)
Rose Lowder, Bouquets 21-24, France, 2001, 6 min
The Bouquets are constructed frame-by-frame, in camera, by alternating single images of specific pastoral locations. The images are clusters of perception, which build into improvised portraits of the flowers and vegetation at each site. Condensed moments of time and space form visual bouquets, planted on our retinas, blooming with rich colour and vitality.
Rose Lowder, Voiliers et Coquelicots, France, 2001, 4 min
In subtle optic wit, poppies and sailboats vie for our attention as they are juxtaposed in consecutive frames. 'Little is necessary for everything to appear differently. The date, the hour, the weather, the space's layout, one's glance or presence of mind … can make everything change'.
Emmanuel Lefrant, Underground, France, 2001, 8 min
The secret forms of the emulsion are revealed in a hand-made film which suggests constantly evolving golden brown organic matter.
Stan Brakhage, Micro Garden, USA, 2001, 3 min
'Red and ephemeral blue and purple plant shapes half-curled against a tan ground, which begins to flash white cracks in dried mud patterns. A flush of watery brightens the plant-skein into a variety of greens mixed into all other colours – all darkening into smeared mud-blacks with microscopic beseeming black 'splatters' (where mud-like cracks used to be).'
Stan Brakhage & Phil Solomon, Seasons …, USA, 1999-2002, 20 min
Painted, etched and engraved by Brakhage, printed and edited by Solomon: two of America's finest film-makers unite to present a tour-de-force fusion of natural and chemical wonder. The world premiere of a long laboured masterpiece 'inspired by the colours and textures found in the woodcuts of Hokusai and Hiroshige, and the playful sense of forms dancing in space from the filmworks of Robert Breer and Len Lye.'
Repeat Screening: Wednesday 13 November 2002, at 4:15pm, London NFT3
---