Date:
13 November 2002 |
Season:
London Film Festival 2002
|
Tags:
London Film Festival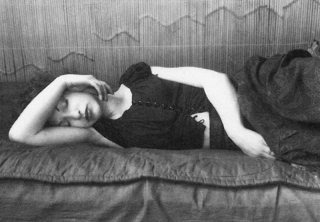 IN THE MIRROR OF MAYA DEREN
Wednesday 13 November 2002, at 8:45pm
London National Film Theatre NFT3
'More than anything else, cinema consists of the eye for the magic – that which perceives and reveals the marvellous in whatsoever it looks upon.' (Maya Deren)
Martina Kudlácek, In the Mirror of Maya Deren, Austria, 2001, 103 min
A feature length biography of the life and work of Maya Deren, whose Meshes of the Afternoon (1943) is widely regarded as the starting point for post-war independent (or avant-garde) film-making. Born in Kiev in 1917, Deren moved to the United States with her parents in 1922 and finally settled in New York, where she died in 1961. Though best known as a film-maker, Maya was also accomplished in the fields of dance, poetry, ethnology, voodoo and ritual. Her tireless promotion of her films, developing new contexts and structures for screenings, were a direct influence on generations of film activists (Jonas Mekas considers her original film canisters to be 'the Holy Grail of cinema'). In her study of voodoo, Deren was the author of 'Divine Horsemen: The Living Gods of Haiti', an important anthropological field guide, and shot hours footage of Voudoun ceremonies. Maya's story is told through excerpts from her works, rare recordings of her voice ('in film, I can make the world dance') and reminiscences from friends and acquaintances. The myths are broken down and an extraordinary life revealed.
screening with
Mary Beth Reed, The Garden Path, USA, 2001, 8 min
An abstracted study of Stan Brakhage at work on his hand-painted film Micro Garden.
---