Date:
25 October 2007 |
Season:
London Film Festival 2007
|
Tags:
London Film Festival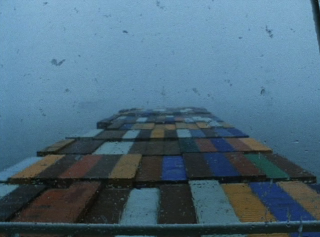 THE TIMES BFI 51st LONDON FILM FESTIVAL
Thursday 25 – Sunday 28 October 2007
London BFI Southbank
The Festival's annual celebration of artists' film and video returns on 27-28 October 2007 with an international programme of diverse and inventive work. For the first time, Experimenta will also occupy BFI Southbank's new Studio over the weekend to present continuous installations of digital videos by Ken Jacobs and Rachel Reupke.
This year's programme ranges from poetic journeys to unfamiliar locations to works which question aspects of specific histories. Whilst video remains the most accessible medium for independent artists, many are choosing again to work with film, either for its visual qualities or physical attributes. It's ironic, or perhaps inevitable, that this revival of interest comes at a time when the future of celluloid seems to be constantly under threat. The selection includes several works in which artists have worked directly on the filmstrip to create striking and original imagery.
Carolee Schneemann did exactly that for her seminal film Fuses, made forty years ago and presented here in an astounding new preservation print. Marina Abramovic, another eminent and challenging artist, is featured in a hypotonic document of her Guggenheim Museum performance series.
Guest filmmaker David Gatten will lead a practical workshop on the use of text and the moving image, and we are pleased to welcome Peter Hutton to present his stunning new film At Sea.
Other artists featured in the weekend programme include Robert Beavers, Su Friedrich, Bruce Conner, Elodie Pong, Christoph Draeger, Jayne Parker, Steve Reinke, Emily Wardill, Michael Robinson, Mara Mattuschka, and Carl E. Brown. Many will be present appear to introduce and discuss their work over the two-day event. Many other artists will appear to introduce and discuss their work over the two-day event.
The 'avant-garde weekend' continues to be a unique occasion for London audiences to experience innovative new visions from around the world.
Other festival highlights for 2007 include the documentaries Black White + Gray: Portrait of Sam Wagstaff and Robert Mapplethorpe and A Walk Into The Sea: Danny Williams and the Warhol Factory (plus a programme of Danny Williams' Factory Films), Guy Maddin's Brand Upon the Brain!, and Casting A Glance, James Benning's film of Robert Smithson's Spiral Jetty.
---