Date:
28 October 2007 |
Season:
London Film Festival 2007
|
Tags:
London Film Festival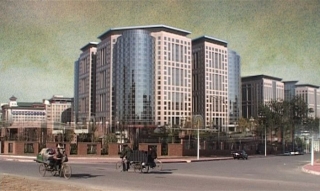 NOW WAIT FOR LAST YEAR
Sunday 28 October 2007, from 12-7pm
London BFI Southbank Studio
Rachel Reupke, Now Wait for Last Year, UK-China, 2007, 9 min (continuous loop)
In response to the rapid pace of property development in Beijing, Reupke references the visual style of architectural practice and corporate videos to present a sequence of fixed views of urban landscapes. Buildings which share the characteristics of both traditional and futuristic design are displayed, but all is not what it seems. Digital images cannot be trusted: these could be plans for future structures or computer-aided fantasy.
Rachel Reupke lives and works in London. Recent exhibitions include Land of Cockaigne, Fabrica, Brighton; Beyond the Country, Lewis Glucksman Gallery, Cork; Vidéo et après, Pompidou Centre, Paris (solo screening) and 24 Hour Fresh Air, L'Espace Croisé, Roubaix.
Now Wait for Last Year was produced as part of the Arts Council England International Fellowships Programme with Gasworks. The title is borrowed from Philip K. Dick.
PROGRAMME NOTES
---