Date:
25 October 2007 |
Season:
London Film Festival 2007
|
Tags:
London Film Festival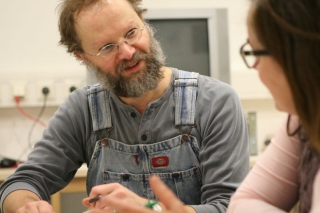 DAVID GATTEN: THE IMAGE & THE WORD (WORKSHOP)
Thursday 25 October 2007, from 10am-5pm
London BFI Southbank
Festival guest David Gatten leads a practical workshop on the use of text in 16mm filmmaking.
DAVID GATTEN: THE IMAGE & THE WORD (WORKSHOP)
Throughout the history of cinema, images and text have been combined on-screen in a variety of ways and for a range of reasons. Silent-era comedy, mid-century newsreels, avant-garde films and home movies have used words to tell stories, convey facts and explore the enjoyments and anxieties of reading. In this day-long workshop, Brooklyn artist David Gatten will provide an overview of such practice, with particular attention to filmmakers who have deployed on-screen text to investigate the way text functions as both image and language, the border between the legible and illegible, and the limits of what can be known through words.
David Gatten has made prominent use of the printed word in the ongoing series The Secret History of the Dividing Line (sections screened at the LFF in previous years) and his recent Film for Invisible Ink, Case No: 71: Base-Plus-Fog (showing in the Festival on 28 October 2007). Following introductory screenings of relevant works, participants will make their own films using a variety of processes, including direct-on-film applications, ink-and-cellophane tape transfers, slide projections, close-up cinematography, in-camera contact printing and more.
The workshop is suitable for both beginners and experienced practitioners.
Presented in association with no.w.here.
---