Date:
27 October 2007 |
Season:
London Film Festival 2007
|
Tags:
London Film Festival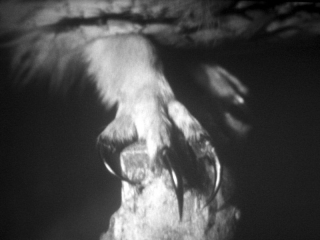 PAST IMPERFECT
Saturday 27 October 2007, at 4pm
London BFI Southbank NFT3
Christina Battle, Hysteria, Canada, 2006, 4 min
Through the manipulation of drawings of the Salem witch trials, using techniques which include peeling layers of emulsion from the filmstrip, oblique parallels are drawn with modern day hysteria.
Soon-Mi Yoo, Dangerous Supplement, USA-Korea, 2006, 14 min
'Is it possible to see the landscape of the past even though it was first seen by the other's murderous gaze?' Dangerous Supplement poetically appropriates footage shot by US military to explore the secrets of the mountain, and the legacy of the Korean War.
Jayne Parker, Catalogue of Birds: Book 3, UK, 2006, 16 min
Following World War II, Messiaen's fascination with birdsong inspired many compositions, and dominates the monumental 'Catalogue d'Oiseaux' of 1959. Jayne Parker has created a visual interpretation of the third movement – The Tawny Owl and The Woodlark – which evokes the habitat and symbolism of these nocturnal birds.
Bruce Conner, His Eye on the Sparrow, USA, 2006, 4 min
The power of music transports the founders of the Soul Stirrers gospel quartet back in time to the Depression Era. A poignant refrain by a master of found footage.
David Dempewolf, Marguerite Duras / Alan Resnais (0.65, 0.85, 1.0 FPS), USA, 2007, 19 min
The opening act of Hiroshima, Mon Amor has been condensed and structured, with urgent repetition, to reconstitute the dialogue between Duras' text and Resnais' vision. Words assume priority as potent images are crudely masked, emphasising details and inviting fresh analysis of this powerful sequence.
Christoph Draeger, Helenés (Apparition of Freedom), Switzerland, 2005, 18 min
Helenés combines two examples of propaganda from East and West. A bleak Hungarian instructional film on nuclear attack is presented in its entirely, strategically subtitled with text from George Bush's inauguration speech (an idiosyncratic interpretation of the concept of freedom).
PROGRAMME NOTES
---