Date:
27 October 2007 |
Season:
London Film Festival 2007
|
Tags:
London Film Festival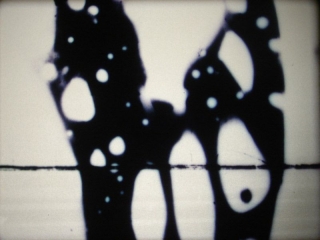 MYSTERIOUS EMULSION
Saturday 27 October 2007, at 9pm
London BFI Southbank NFT3
Sandy Ding, Water Spell, USA, 2007, 42 min
A journey from realism to a supersensory realm, slipping under the surface and between molecules at a microscopic scale. Channeling the subconscious, Water Spell is both odyssey and invocation; a ritual of transformation and retinal blast. The film releases the energy locked within its frames through flickering pulsations of light.
Carl E. Brown, Blue Monet, Canada, 2006, 56 min (double screen)
Rarely shown in the UK, Carl Brown is a long-established film artist whose practice is dedicated to the modification of images by chemical means. Blue Monet is an homage to the French Impressionist, and an attempt to bring the Monet experience into the realm of cinema. Through the ebb and flow of intricate imagery, water lilies eternally blossom and fade with otherworldly grace. Brown has used his alchemical techniques to transfer Monet's sense of colour, light, sky and water onto film. Viewed in spacious double-screen and enhanced by swathes of sound, this film is an immersive experience.
PROGRAMME NOTES
---