Date:
27 October 2007 |
Season:
London Film Festival 2007
|
Tags:
London Film Festival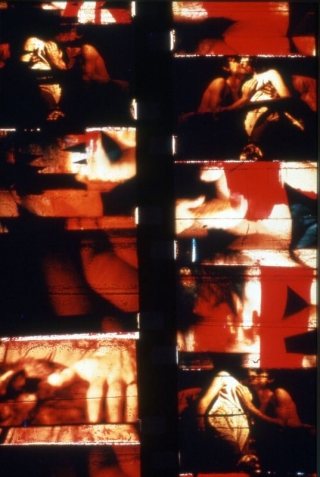 CAROLEE SCHNEEMANN PRESERVATIONS
Saturday 27 October 2007, at 7pm
London BFI Southbank NFT3
Newly preserved prints. Carolee Schneemann is a multi-media artist whose films, performances, installations and writings are a radical discourse on the body, sexuality and gender.
Carolee Schneemann, Fuses, USA, 1964-67, 29 min
Fuses is a vibrant celebration of a passionate relationship, openly portraying sexual intercourse without the objectification of pornography. To extend the tactile intimacy of lovemaking to filmmaking, Schneemann treated the filmstrips as a canvas, working by hand to paint, transform and cut the footage into a dense collage. The erotic energy of the body is transferred directly onto the film material. Recently preserved by Anthology Film Archives, this legendary work glows with a clarity unseen since its debut in the 1960s.
Carolee Schneemann, Kitch's Last Meal, USA, 1973-76, c.60 min
The moving conclusion to the autobiographical trilogy which began with Fuses, Kitch's Last Meal documents the routines of daily life. It was shot on the Super-8 home movie format and is projected double screen (one image above the other) as an interchangeable set of 18-minute reels. The soundtrack mixes personal reminiscences with ambient sounds of the household, and includes the original text used for Schneemann's 1975 performance 'Interior Scroll'. Time passes, a relationship winds down and death closes in: filming and recording stopped when the elderly cat Kitch, Schneemann's closest companion for two decades, died. Each performance of the film in its original state was a re-ordering of the visual and aural materials, arranged by the artist according to mood and environment. For the preservation print, three pairs of reels have been selected and blown up to 16mm.
PROGRAMME NOTES
---