Date:
28 October 2007 |
Season:
London Film Festival 2007
|
Tags:
London Film Festival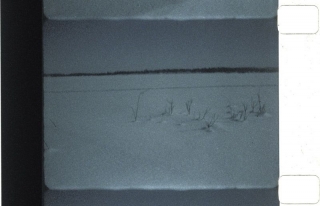 OVER LAND AND SEA
Sunday 28 October 2007, at 2pm
London BFI Southbank NFT3
Patrick Beveridge, The Ivalo River Delta, UK, 2007, 17 min
Shot within the Arctic Circle in northern Lapland, the film documents the landscape and lively night sky of an icy wilderness. The Aurora Borealis and other extraordinary phenomena are captured through long exposures and stunning time-lapse photography.
Peter Hutton, At Sea, USA, 2007, 60 min
Peter Hutton has modestly spoken of his work as being 'a little detour' from the history of cinema but perhaps he is following a path that others have neglected, or are yet to discover. Typified by fixed shots of extended duration, his concentrated gaze builds a bridge between early cinema, landscape painting and still photography, evoking Lumière, Turner and Stieglitz. Hutton's camera often records the subtle changes of light and atmospheric conditions of rural and urban locations, and has frequently been directed toward nautical themes. This new film is essentially about the birth, life and death of large merchant ships. Following the construction of the vessels in South Korea and the passage of a massive container ship across the North Atlantic, it ends with images of shipbreaking in Bangladesh. At Sea is a real tour-de-force, in which the weight and scale of its subject is conveyed by masterful cinematography over a series of breathtaking compositions.
Peter Hutton will present a screening of his early work at Tate Modern on Monday 29 October 2007.
PROGRAMME NOTES
---