Date:
24 October 2009 |
Season:
London Film Festival 2009
|
Tags:
London Film Festival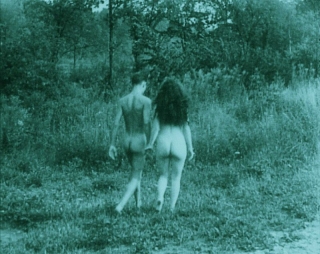 THE TIMES BFI 53rd LONDON FILM FESTIVAL
24—25 October 2009
London BFI Southbank
The London Film Festival's annual weekend dedicated to artists' film and video will take place on 24-25 October 2009.
The programme presents a varied selection of international works ranging from the contemporary ethnography of Mirza/Butler to Jim Trainor's witty, naïve animation of ancient civilisations. Gustav Deutsch introduces FILM IST. a girl & a gun, a battle of the sexes told through footage from early cinema, and a special event featuring new prints of films by Hollis Frampton complements the recent publication of his collected writings.
Established filmmakers Lewis Klahr, Mara Mattuschka and Matthias Müller are shown alongside younger artists Paul Abbott, Jana Debus, and Laida Lertxundi, who are screening in the festival for the first time. Continuous installations by Laure Prouvost and Victor Alimpiev will be presented in the BFI Southbank Studio.
Elsewhere in the festival, look for new features by Johan Grimonperez, Andrew Kötting, Ken McMullen and Sam Taylor-Wood, preservations of The Savage Eye and Far From Vietnam and the rediscovery of Henri-Georges Clouzot's Inferno.
---