Date:
25 October 2009 |
Season:
London Film Festival 2009
|
Tags:
London Film Festival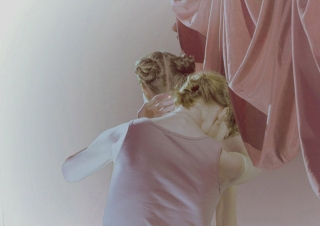 MY ABSOLUTION
Sunday 25 October 2009, from 12-7pm
London BFI Southbank Studio
Alimpiev's work imbues the simplest gestures with mystery and consequence. An actress performs a sequence of enigmatic actions towards the nape of a second woman's neck in a performance that creates an almost sculptural tension which is never quite released.
MY ABSOLUTION
Victor Alimpiev, Russia-Netherlands, 2008, video, colour, sound, 8 min
Victor Alimpiev's videos are experiments in controlled spontaneous behaviour. Whether providing a close-up view of a singing exercise in which one woman instructs another on proper breathing techniques (My Breath, 2007) or juxtaposing a group of schoolgirls rapping on their desks with the ragings of a summer storm (Summer Lightnings, 2004), Alimpiev reveals our concomitant proximity to and distance from the natural world. The desperation implicit in his attempt to align the rational and the irrational is echoed in the camera's tight frame and abrupt interruptions. The resulting tension derives from both the exhilarating effort to master nature's rhythms and the manifest impossibility of achieving this task. (Claire Gilman)
Victor Alimpiev was born in Moscow in 1973 and is represented by Regina Gallery Moscow and Galerie Anita Beckers Frankfurt. He has recently exhibited at the Moscow and Berlin biennales, SMAK Ghent, Modern Art Oxford and Impakt Festival Utrecht. His solo show "To Trample Down an Arable Land" is currently on display at the Ikon Gallery Birmingham until 15 November 2009.
---