Date:
24 October 2009 |
Season:
London Film Festival 2009
|
Tags:
London Film Festival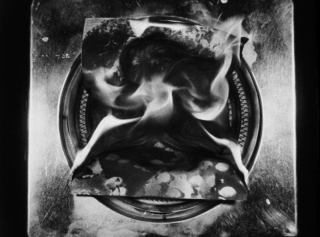 HOLLIS FRAMPTON: HAPAX LEGOMENA
Saturday 24 October 2009, at 2pm
London BFI Southbank NFT3
Hollis Frampton, a key figure of the American avant-garde, was an artist and theoretician whose practice closely resonates with contemporary discourse. The series of seven films known as Hapax Legomena is, alongside Zorns Lemma, one of his most distinguished achievements, and will be presented in its entirety on new preservation prints. Predating Magellan, the ambitious 'metahistory' of film left unfinished by his early death in 1984, Hapax Legomena traces Frampton's own creative progression from photographer to filmmaker. It dissects sound/image relationships, incorporates early explorations of video and television, and looks forward to digital media and electronic processes. Though notoriously rigorous, Frampton's films are infused with poetic tendencies and erudite wit, sustaining a dialogue with the materials of their making, and the viewer's active participation in their reception.
'Hapax legomena are, literally, 'things said once' … The title brackets a cycle of seven films, which make up a single work composed of detachable parts … The work is an oblique autobiography, seen in stereoscopic focus with the phylogeny of film art as I have had to recapitulate it during my own fitful development as a filmmaker.' (Hollis Frampton)
Hollis Frampton, (nostalgia), USA, 1971, 36 min
As a sequence of photographs is presented and slowly burned, a narrator recounts displaced anecdotes related to their production, shifting the relationship between words and images.
Hollis Frampton, Poetic Justice, USA, 1972, 31 min
A 'film for the mind' in which the script is displayed page by page for the viewer to read and imagine.
Hollis Frampton, Critical Mass, USA 1971, 16 min
Frampton's radical editing technique disrupts and amplifies the already impassioned argument of a quarrelling couple.
Hollis Frampton, Travelling Matte, USA, 1971, 34 min
'The pivot upon which the whole of Hapax Legomena turns' uses early video technology to interrogate the image.
Hollis Frampton, Ordinary Matter, USA, 1972, 36 min
This 'headlong dive' from the Brooklyn Bridge to Stonehenge is a burst of exhilarated consciousness.
Hollis Frampton, Remote Control, USA, 1972, 29 min
'A 'baroque' summary of film's historic internal conflicts, chiefly those between narrative and metric/plastic montage; and between illusionist and graphic space.'
Hollis Frampton, Special Effects, USA, 1972, 11 min
Stripping away content leaves only the frame. 'People this given space, if you will, with images of your own devising.'
Hapax Legomena has been preserved through a major cooperative effort funded by the National Film Preservation Foundation and undertaken by Anthology Film Archives, MoMA, the New York University Moving Image Archiving and Preservation Program, and project conservator Bill Brand.
'On the Camera Arts and Consecutive Matters: The Writings of Hollis Frampton', edited by Bruce Jenkins, was published by MIT Press in April 2009. The collection presents Frampton's critical essays (many written for Artforum and October) along with additional material – including lectures, correspondence, interviews, production notes and scripts – which display his distinctive perspectives on photography, film, video, and the plastic and literary arts.
Also Screening: Thursday 29 October 2009, at 6:30pm, NFT3
PROGRAMME NOTES
---