Date:
25 October 2009 |
Season:
London Film Festival 2009
|
Tags:
London Film Festival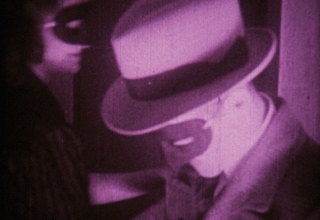 FILM IST. A GIRL & A GUN
Sunday 25 October 2009, at 4pm
London BFI Southbank NFT3
Gustav Deutsch, FILM IST. a girl & a gun, Austria, 2009, 97 min
Taking its cue from DW Griffith via J-L Godard, the latest instalment of the FILM IST series is a five-act drama in which reclaimed footage is interwoven with aphorisms from ancient Greek philosophy. Beginning with the birth of the universe, it develops into a meditation on the timeless themes of sex and death, exploring creation, desire and destruction by appropriating scenes from narrative features, war reportage, nature studies and pornography. The Earth takes shape from molten lava, and man and woman embark upon their erotic quest. For this mesmerising epic, Deutsch applies techniques of montage, sound and colour to resources drawn from both conventional film archives and specialist collections such as the Kinsey Institute and Imperial War Museum. Excavating cinema history to tease new meanings from diverse and forgotten film material, he proposes new perspectives on the cycle of humanity. The film's integral score by long-term collaborators Christian Fennesz, Burkhardt Stangl and Martin Siewert incorporates music by David Grubbs, Soap&Skin and others.
Also Screening: Thursday 29 October 2009, at 4pm, NFT2
PROGRAMME NOTES
---