Date:
24 October 2009 |
Season:
London Film Festival 2009
|
Tags:
London Film Festival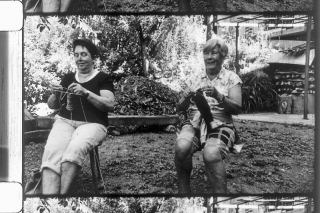 HUMAN NATURE
Saturday 24 October 2009, at 7pm
London BFI Southbank NFT3
Friedl vom Gröller, Passage Briare, Austria, 2009, 3 min
A meeting of friends in a Paris backstreet, and an unexpected revelation.
Josef Dabernig, Hotel Roccalba, Austria, 2009, 10 min
In a subtle choreography, the occupants of a small Alpine hotel pass a lazy afternoon. Not much happens, but all may not be as it appears.
Jana Debus, Gregor Alexis, Germany, 2008, 20 min
The filmmaker's schizophrenic brother recounts personal experiences, slipping between first and third person. The locations chosen for this portrait – a desolate apartment and a wasteland littered with abandoned machinery – are indicative of the condition of someone potentially as vulnerable as the insects that collect on his windowsill.
Ken Jacobs, The Discovery, USA, 2008, 4 min
Tom's dextrous parlour game attracts unwanted attention. A stolen moment, frozen in time, now re-animated for all to see.
Jim Trainor, The Presentation Theme, USA, 2008, 14 min
As primitive Magic Marker drawings illustrate the myths and rituals of the ancient Moche civilisation, a disparaging narrator describes the tormented trials of a hapless creature amongst goblets of blood, fanged men and a sacrificial priestess.
Mara Mattuska & Chris Haring, Burning Palace, Austria, 2009, 32 min
This new collaboration between Mattuschka and Vienna's Liquid Loft takes us behind the velvet curtains of the Burning Palace, whose peculiar inhabitants have an itch they just can't scratch.
PROGRAMME NOTES
---