Date:
25 October 2009 |
Season:
London Film Festival 2009
|
Tags:
London Film Festival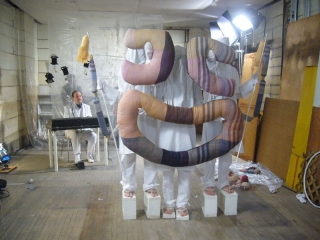 WHIRL OF CONFUSION
Sunday 25 October 2009, at 7pm
London BFI Southbank NFT3
Mary Helena Clark, And the Sun Flowers, USA, 2008, 5 min
'Notes from the distant future and forgotten past. An ethereal flower and disembodied voice guide you through the spaces in between.' (Mary Helena Clark)
Greg Pope, Shot Film, UK-Norway, 2009, 4 min
Taking the expression 'to shoot a film' at face value, this 35mm reel has been blasted with a shotgun.
Matthias Müller, Christoph Giradet, Contre-Jour, Germany, 2009, 11 min
My Eyes! My Eyes! Flickering out from the screen and direct to your retina, Contre-jour is not for the optic neurotic. Take a deep breath and try to relax as Müller and Girardet conduct their examination.
David Gatten, Film for Invisible Ink Case No. 142: Abbreviation for Dead Winter (Diminished by 1,794), USA, 2008, 13 min
'A single piece of paper, a second stab at suture, a story three times over, a frame for every mile. Words by Charles Darwin.' (David Gatten)
Paul Abbott, Wolf's Froth / Amongst Other Things, UK, 2009, 15 min
By chance or circumstance, wolf's froth's covert syntax refuses to be unpicked. Entangling anxious domesticity with the spectre of aggression, it conjures a mood of underlying discomfort and intrigue.
Lewis Klahr, False Aging, USA, 2008, 15 min
Klahr's surreal collage journeys through lost horizons of comic book Americana and is brought back down to earth by Drella's dream. And nobody called, and nobody came.
Oliver Husain, Mount Shasta, Canada, 2008, 8 min
What is ostensibly a proposal for a film script is acted out, without artifice, in a bare loft space as Mantler plays a plaintive lament. A puppet show like none other that will leave you bemused, befuddled and bewildered.
PROGRAMME NOTES
---