Date:
25 October 2009 |
Season:
London Film Festival 2009
|
Tags:
London Film Festival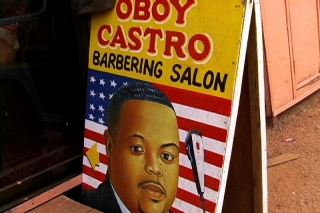 THE EXCEPTION AND THE RULE
Sunday 25 October 2009, at 2pm
London BFI Southbank NFT3
Akosua Adoma Owusu, Me Broni Ba (My White Baby), USA-Ghana, 2008, 22 min
Driven by the pulsing sounds of Afrobeat and American soul, this spirited study of Ghanaian hair salons questions representations of beauty and ethnicity. While teams of women weave elaborate styles, children practice braiding on the blonde hair of white baby dolls, surplus stock exported from the West.
Laida Lertxundi, My Tears Are Dry, USA-Spain, 2009, 4 min
A song of heartache, an afternoon's repose and the eternal promise of the blue California sky.
Karen Mirza, Brad Butler, The Exception and the Rule, UK-Pakistan-India, 2009, 38 min
Shot primarily in Karachi, The Exception and the Rule employs a variety of strategies in negotiating consciously political themes. Avoiding traditional documentary modes, the film frames everyday activities within a period of civil unrest, incorporating performances to camera, public interventions and observation. This complex work supplements Mirza/Butler's Artangel project 'The Museum of Non Participation'.
PROGRAMME NOTES
---