Date:
25 October 2008 |
Season:
London Film Festival 2008
|
Tags:
London Film Festival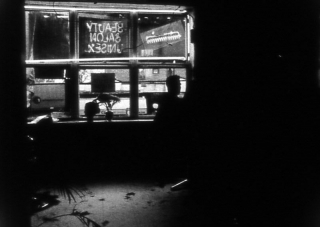 THE TIMES BFI 52nd LONDON FILM FESTIVAL
Saturday 25 – Sunday 26 October 2008
London BFI Southbank
The festival's annual celebration of artists' film and video will take place on the weekend of 25-26 October 2008.
Over two days, a diverse selection of international work will be presented at in eight screenings that aim to challenge, entertain and enlighten viewers. Continuous installations by artists Thomas Köner and Neil Beloufa will be presented for one day each in the BFI Southbank Studio.
This year's programme includes a number of solo screenings in which the work of several filmmakers can be explored in depth. Nathaniel Dorsky returns to London to present his transcendent personal cinema, which has been a regular highlight in recent years. Documentaries on contemporary Russian life by Alina Rudnitskaya are featured, as are newly preserved 35mm prints of two films by the radical French theorist Guy Debord. Michel Auder's extended fictional biography looks back over a life in the New York art world through footage from his vast archive of videotapes.
New approaches to ethnography and documentary recur throughout the weekend and are explored in the work of British filmmaker Ben Rivers. In the mixed programmes, the presence of both emerging and established filmmakers open a window onto a wide range of creativity. Featured artists include Pat O'Neill, Jayne Parker, Phil Solomon, Lawrence Jordan, Nicky Hamlyn, Alexandra Cuesta, David Gatten, Sylvia Schedelbauer and Bruce Conner.
Elsewhere in the festival, look out for new films by Straub/Huillet and Agnes Varda, Momma's Man by Azazel Jacobs (starring and shot in the loft of his parents Ken and Flo Jacobs), James Benning's captivating RR, and preservations of The Exiles, Manhatta and NY, NY.
---