Date:
25 October 2008 |
Season:
London Film Festival 2008
|
Tags:
London Film Festival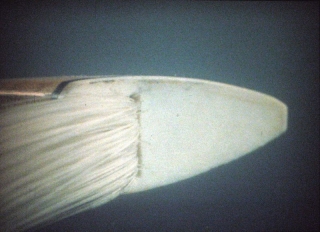 A SENSE OF PLACE
Saturday 25 October 2008, at 2pm
London BFI Southbank NFT3
Nicky Hamlyn, Four Toronto Films, UK, 2007, 18 min
During a residency in the Canadian city, Hamlyn made this suite of films that explore a direct relationship between subject matter and camera apparatus. Three scrutinise aspects of the urban locale, the other an accelerated view of Koshlong Lake.
Robert Todd, 21 Alleys, USA, 2007, 9 min
A residential street, seen through the passageways that separate its dwellings, is the focus of this understated study of gentrification in a Boston neighbourhood.
Phil Solomon, Last Days in a Lonely Place, USA, 2007, 22 min
Solomon has created a sombre elegy for a departed friend from fragments of movie soundtracks and anomalous images liberated from Grand Theft Auto. A soul drifts through unpopulated (virtual) spaces and we see absence.
Rebecca Baron & Douglas Goodwin, Lossless #2, USA, 2008, 3 min
Witness the dematerialization of an avant-garde standard as incomplete digital files, downloaded from file sharing networks, induce trouble in the image.
Jayne Parker, Trilogy: Kettle's Yard, UK, 2008, 25 min
Linear Construction, Woman with Arms Crossed and Arc refer back to a quartet of films made with musician Anton Lukoszevieze almost a decade ago. This new anthology for solo cello was shot at Kettles Yard and incorporates items from the museum's collection which open up metaphorical space and meaning.
Lawrence Jordan, The Miracle of Don Cristobal, USA, 2008, 12 min
An alchemical melodrama composed of engravings from 19th century adventure stories. The illustrations are conjured into motion as improbable sounds collide with a Puccini aria.
PROGRAMME NOTES
---