Date:
26 October 2008 |
Season:
London Film Festival 2008
|
Tags:
London Film Festival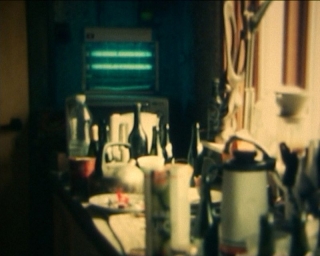 BEN RIVERS AT THE EDGE OF THE WORLD
Sunday 26 October 2008, at 9pm
London BFI Southbank NFT3
An intrepid explorer, Ben Rivers toys with ethnographic tropes whilst roaming free from documentary truth. Encountering those who choose to live apart from society, his nonjudgmental approach presents 'real life, or something close to it.' The Edge of the World features several recent works with other films of his choice.
Ben Rivers, Ah Liberty!, UK, 2008, 19 min
In the wilderness of a highland farm, a bunch of tearaways joyride, smash up, tinker and terrorize the way that only children can. Assimilating landscape and livestock, this poetic study contrasts the languid setting with the youngster's restless energy.
Alexandra Cuesta, Recordando El Ayer, USA, 2007, 9 min
In the shadow of an elevated subway line in Queens, New York, the residents, streets and stores of a Latino community evoke a sense of transience and displacement.
Ben Rivers, Astika, UK-Denmark, 2007, 8 min
Danish recluse Astika has allowed nature to run wild, overgrowing his own habitat to the point that he has no option but to move away. The film is a hazy arrangement in green and gold, all rich textures and lush foliage.
Luther Price, Singing Biscuits, USA, 2007, 4 min
A gospel cry rings out across the decades, disrupted in space and time, fading but resilient.
Ben Rivers, "New Surprise Film", UK, 2008, c.7 min
A little anticipation never did anyone any harm; you'll have to be there to find out what it is.
Ben Rivers, Origin of the Species, UK, 2008, 17 min
'A 70-year old man living in a remote part of Scotland has been obsessed with 'trying to really understand' Darwin's book for many years. Alongside this passion, he's been constantly working on small inventions for making his life easier. The film investigates someone profoundly interested in human beings, but who has decided to live separately from the majority of them.' (Ben Rivers)
PROGRAMME NOTES
---