Date:
25 October 2008 |
Season:
London Film Festival 2008
|
Tags:
London Film Festival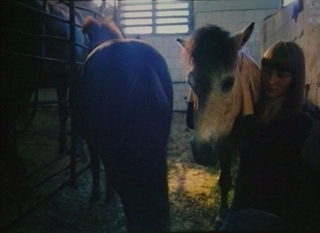 ALINA RUDNITSKAYA
Saturday 25 October 2008, at 7pm
London BFI Southbank NFT3
Alina Rudnitskaya's humanistic approach to documentary filmmaking often brings out the humour in her chosen subjects. As an introduction to her work, this programme depicts three diverse groups of contemporary Russian women.
Alina Rudnitskaya, Amazons, Russia, 2003, 20 min
A sensitive portrait of an unusual urban phenomenon: a troupe of independent and strong-minded girls who keep horses in the heart of St Petersburg. Amazons follows a new volunteer as she tries to find her place within the group dynamic.
Alina Rudnitskaya, Besame Mucho, Russia, 2006, 27 min
With music providing an escape from their duties as veterinarians, nurses and cleaners, the amateur chorus of a provincial town rehearse songs from Verdi's 'Aida'. Close bonds are formed, but in true diva style, relationships within the choir are frequently inharmonious.
Alina Rudnitskaya, Bitch Academy, Russia, 2008, 29 min
An improbable symbol of modern Russia is displayed in this tragicomic verité on the aspirations of young women. In a progressive twist on assertiveness training, a middle-aged, paunchy Casanova (who surely loves his job) gives classes on how to seduce the male using role play, styling critiques and sexy dancing. The ultimate goal is to hitch a millionaire, and though there's much humour in the situation, occasional tears and telling looks remind us that the insecurities of real lives are being laid bare.
PROGRAMME NOTES
---