Date:
26 October 2008 |
Season:
London Film Festival 2008
|
Tags:
London Film Festival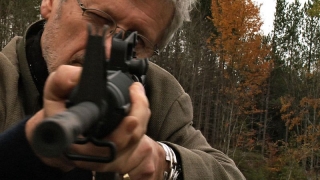 THE FEATURE
Sunday 26 October 2008, at 3:45pm
London BFI Southbank NFT3
Michel Auder & Andrew Neel, The Feature, USA, 2008, 177 min
In Michel Auder's case, the truth is certainly stranger than fiction. One of the first to compulsively exploit the diaristic potential of the Sony Portapak, he was right there at the heart of the Warhol Factory and the Soho art explosion. This fictionalised biography draws on his vast archive of videotapes, connecting them by means of a distanced narration and new footage, shot by co-director Andrew Neel, in which Auder portrays his doppelganger, an arrogantly successful artist who may or may not have a life-threatening condition. Resisting nostalgia through wilful ambiguity, The Feature remains raw and brutally honest as Auder displays the best and worst of himself. Taking in his marriages to both Viva and Cindy Sherman, and affiliations with Larry Rivers, the Zanzibar group and the downtown art scene, this is necessarily a tale of epic proportions, chronicling an amazing journey through art and life whilst providing access to a wealth of fascinating personal footage.
Also Screening: Tuesday 29 October 2008, at 7pm, BFI Southbank Studio
PROGRAMME NOTES
---