Date:
2 November 2010 |
Season:
Plenty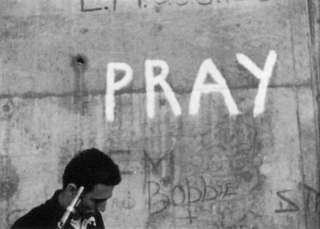 PLENTY 1: THE END
Tuesday 2 November 2010, at 7pm
London E:vent Gallery
The screening series PLENTY proposes a new way of looking at artists' films by showing only a single work, regardless of its duration. Each film is given the freedom to unfold on its own terms, and the viewer is given the time and space to consider it.
"Ladies and gentlemen. We asked you before to insert yourself into the cast, now we ask you to write this story. Here is a character. Here is the most beautiful music on earth. Here are some pictures. What is happening?"
THE END
Christopher Maclaine, USA, 1953, 16mm, b/w & colour, sound, 35 min
The End follows the last day on earth for six of 'our friends' living in the shadow of the atomic bomb. Cryptic camerawork and disjointed cutting conspire to salvage narrative from unrelated images, accompanied by a barely coherent rant of existential despair. The End is an anti-film infused with dark, ironic humour; deliciously inept and inadvertently glorious.
Christopher Maclaine (1923-75) was a marginal figure in the early beatnik scene of North Beach, San Francisco. He wrote poetry and prose, and made four films. Maclaine's heavy use of amphetamines ultimately rendered him debilitated, resulting in hospital internments and early death.
PLENTY, a free monthly screening series selected by Mark Webber, forms part of the "Brief Habits" programme curated by Shama Khanna.
---