Date:
30 November 2010 |
Season:
Plenty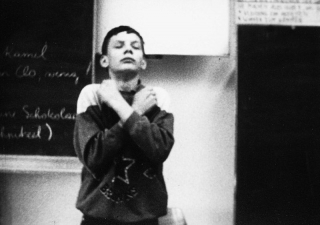 PLENTY 2: ÄGYPTEN
Tuesday 30 November 2010, at 7pm
London E:vent Gallery
The screening series PLENTY proposes a new way of looking at artists' films by showing only a single work, regardless of its duration. Each film is given the freedom to unfold on its own terms, and the viewer is given the time and space to consider it.
ÄGYPTEN [EGYPT]
Kathrin Resetarits, Austria, 1997, 16mm, b/w, sound, 10 min
Ägypten takes viewers on a journey into the silent world of sign language, exploring visual communication between people of all ages. Children recount movie scenes and an expedition to the pyramids, a woman signs a traditional Viennese ballad and a group of pensioners socialise. The film uses the power of cinema to explore this theme with humour and compassion.
Kathrin Resetarits (born 1973) is a Viennese writer, actress and filmmaker. Her other films include Fremde (1999) and Ich Bin Ich (2006). She played a leading role in Barbara Albert's Fallen (1997) and has worked as an assistant to Michael Haneke.
PLENTY, a free monthly screening series selected by Mark Webber, forms part of the "Brief Habits" programme curated by Shama Khanna.
---