Date:
11 January 2011 |
Season:
Plenty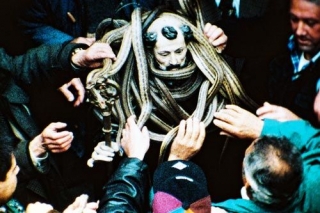 PLENTY 3: COCULLO
Tuesday 11 January 2011, at 7pm
London E:vent Gallery
The screening series PLENTY proposes a new way of looking at artists' films by showing only a single work, regardless of its duration. Each film is given the freedom to unfold on its own terms, and the viewer is given the time and space to consider it.
COCULLO
Nino Pezzella, Italy, 2000-06, 16mm, colour, sound, 30 min
Snakes alive! For the annual Festa dei Serpari in Cocullo, a statue of San Domenico is adorned with snakes and paraded through the village streets, escorted by bagpipes and a marching band. Traditional foods are prepared using time-honoured methods. Pezzella's dynamic film collides sounds and images as it follows this extraordinary ritual and its participants.
Painter and filmmaker Nino Pezzella (born 1961, Wiesbaden) studied at the Städelschule, Frankfurt, where he now teaches life drawing. His current work documents the lives of the Femminielli in Naples.
PLENTY, a free monthly screening series selected by Mark Webber, forms part of the "Brief Habits" programme curated by Shama Khanna.
---