Date:
8 March 2011 |
Season:
Plenty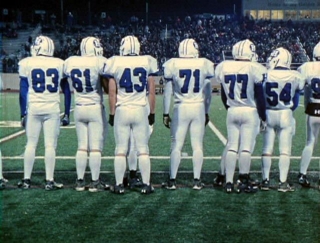 PLENTY 5: O'ER THE LAND
Tuesday 8 March 2011, at 7pm
London E:vent Gallery
The screening series PLENTY proposes a new way of looking at artists' films by showing only a single work, regardless of its duration. Each film is given the freedom to unfold on its own terms, and the viewer is given the time and space to consider it.
O'ER THE LAND
Deborah Stratman, USA, 2009, 16mm, colour, sound, 52 min
Marine Corps pilot William Rankin ejected from his jet into a severe thunderstorm, surviving lightening strikes in a 40-minute descent. 50 years later, his account is the starting point for a contemplation of American national identity that takes in Civil War re-enactments, high school football games, gun shows, firefighters and border patrols.
Deborah Stratman (born 1967) is a Chicago-based artist working in photography, sound, drawing and installation. Her films use experimental and documentary techniques to explore an interest in landscapes, mythologies and systems.
PLENTY, a free monthly screening series selected by Mark Webber, forms part of the "Brief Habits" programme curated by Shama Khanna.
---