Date:
26 July 2011 |
Season:
Plenty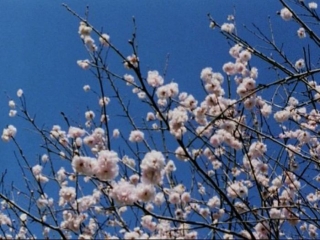 PLENTY 9: BOUVIER AND PRUSAKOVA
Tuesday 26 July 2011, at 7pm
London X Marks The Bökship

The screening series PLENTY proposes a new way of looking at artists' films by showing only a single work, regardless of its duration. Each film is given the freedom to unfold on its own terms, and the viewer is given the time and space to consider it.
BOUVIER AND PRUSAKOVA
Marya Alford, USA, 2005, 16mm, colour, sound, 25 min
To accompany images of cherry blossom against a radiant blue sky, a voice reads an autobiographical account of a relationship. The text is excerpted from the Warren Commission testimony of the wife of Lee Harvey Oswald, assassin of President John F. Kennedy. Titled by the maiden names of their widows, the film parallels the lives of both women.
Screening to coincide with the 70th birthday of Marina Oswald Porter.
Marya Alford (born 1979) studied at Otis College and USC, Los Angeles. She works primarily in photography and installation. Bouvier and Prusakova is her only film to date.
PLENTY, a free monthly screening series selected by Mark Webber, forms part of the "Brief Habits" programme curated by Shama Khanna.
Please note that this screening takes place at X Marks The Bökship, not at our regular venue.
---