Date:
7 December 2006 |
Season:
Expanded Cinema 2006
|
Tags:
Expanded Cinema
,
Stuttgart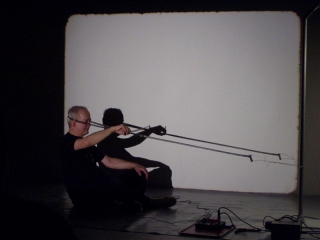 EXPANDED CINEMA: SPACE / TIME / STRUCTURE
7 – 10 December 2006
Stuttgart Württembergischer Kunstverein
Württembergischer Kunstverein Stuttgart presents a four-day symposium of performances, screenings, workshops and discussions on the theme of EXPANDED CINEMA.
EXPANDED CINEMA is an unfixed mode of film presentation, encompassing multiple projection, live performances and film environments. In contrast to installation, each individual projection is a unique and finite durational experience. Works are structured to incorporate temporal drifts and spatial variations, and performances often depend on the participation of the artist-creator. EXPANDED CINEMA deconstructs and subverts the standard conditions of cinema to break down the relationship between film and viewer, liberating the mechanics of cinema from the hidden space of the projection booth and placing them amongst the audience. In resisting documentation and recreation, EXPANDED CINEMA is a dynamic, live art which can only be experienced in the here and now.
The event presents around 30 works by 20 international artists, among them early expanded works from the sixties and seventies, as well as recent works by a younger generation of artists.
In addition to the live performances and screenings each evening, the symposium features lectures, workshops and discussions led by the artists and guest speakers. On Friday 8 December, there will be a particular focus on the problems of documentation and recreation of EXPANDED CINEMA, addressing issues relating to the conservation, presentation and study of this filmic performance art for the future. Throughout the symposium, video documentation of previous EXPANDED CINEMA performances and screenings (among others ca. 40 performances at hartware medien kunst verein in Dortmund, 2004) will be available for viewing in the study area during gallery opening hours.
Guest artists Tony Conrad, Bruce McClure, Karen Mirza & Brad Butler, William Raban.
Films by: Yann Beauvais, Carl Brown, Gill Eatherley, Morgan Fisher, Ken Jacobs, Malcolm Le Grice, Rose Lowder, Anthony McCall, Hans Michaud, Robert Morris, Werner Nekes, Sally Potter, Joost Rekveld, Lis Rhodes, Ernst Schmidt Jr., Paul Sharits and Michael Snow
Curated by Mark Webber.
Coordinated by Katrin Mundt.
Commissioned by Hans D. Christ and Iris Dressler.
Württembergischer Kunstverein Stuttgart, Schlossplatz 2, D-70173 Stuttgart, Germany
www.wkv-stuttgart.de
---