Date:
8 December 2006 |
Season:
Expanded Cinema 2006
|
Tags:
Expanded Cinema
,
Stuttgart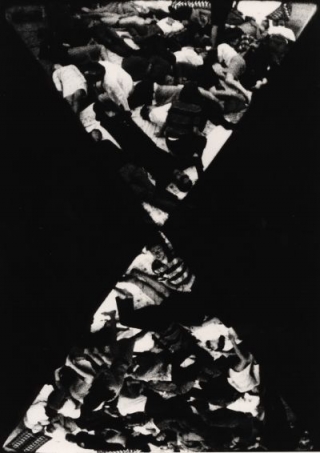 EXPANDED CINEMA: SCREENING
Friday 8 December 2006, at 7pm
Stuttgart Württembergischer Kunstverein
Ken Jacobs, Opening the Nineteenth Century: 1896, USA, 1990, 16mm, b/w, sound, 9 min
An archival film from the turn of the century, transformed into impossible 3D.
Hans Michaud, MorningFilms Double Projection 8/2001-10/2004, USA, 2004, 2 x 16mm, b/w, silent, 5 min
A celluloid sketchbook composed to a strict mathematical scheme.
Rose Lowder, Certaines Observations, France, 1979, 2 x 16mm, b/w, silent, 14 min
"Certain observations are used to define notions regarding the appearance of things in true or apparent motion."
Yann Beauvais, Sans Titre 84, France, 1984, 2 x 16mm, colour, silent, 14 min
Photographs of the Arc de Triomphe, split into strips, reformed and transformed.
Werner Nekes, Gurtrug Nr. 2, Germany, 1967, 2 x 16mm, colour, sound, 13 min
Two triangular images, vertically aligned, form an X in space and time.
Ernst Schmidt Jr., Doppelprojektion, Austria, 1969, 2 x 16mm, b/w, silent, 5 min
Doppelprojektion explores the transformation of events from physical space into visual space.
---