Date:
8 December 2006 |
Season:
Expanded Cinema 2006
|
Tags:
Expanded Cinema
,
Stuttgart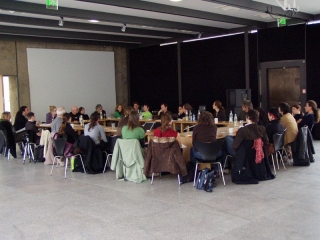 EXPANDED CINEMA: DISCUSSION
Friday 8 December 2006, at 11am
Stuttgart Württembergischer Kunstverein
THE FUTURE OF EXPANDED CINEMA
Guest artists and invited speakers will discuss issues related to the presentation and documentation of EXPANDED CINEMA works, addressing important questions concerning the conservation, presentation and study of this filmic performance art. EXPANDED CINEMA often demands the direct participation of the artist-creator, resisting re-enactment and reconstruction in their absence. Each projection is different, embracing chance and variation, and adapted to its exhibition environment, making it impossible to encapsulate a definitive performance. Given these conditions, how can such works be adequately recorded and studied outside of the live experience, whilst retaining the unique characteristics of this dynamic, ephemeral art form ?
LIST OF PARTICIPANTS
---