Date:
15 October 1999 |
Season:
Leeds Film Festival 1999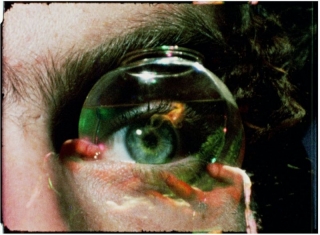 AMERICAN UNDERGROUND PRIMER: 1
Friday 15 October 1999, at 6pm
Leeds Hyde Park Cinema
Maya Deren, Meshes of the Afternoon, 1943, 18 min
The making of Maya Deren's first film was a key point in the advancement of the personal film. It is one of the earliest 'trance' films, a style which developed from the earlier European Surrealist films of the 1920s and 30s. Deren creates a subconscious world and portrays a dreamer disturbed by a series of irrational incidents.
Kenneth Anger, Invocation of My Demon Brother, 1969, 11 min
Kenneth Anger, one of the most well-known experimental filmmakers, fuses the magick of his mentor Aleister Crowley with the myths of Hollywood's golden age. This film, which shows Anger performing the Equinox Of The Gods ritual and has a Moog synthesiser soundtrack by Mick Jagger, is one of his most intense productions.
Ken Jacobs, Little Stabs at Happiness, 1959-63, 15 min
Little Stabs at Happiness consists of several unedited camera poems which depict a wistful nostalgia for times passed. Two sections feature the legendary filmmaker and performer Jack Smith. Ken Jacobs went on to be an important influence on the Structural movement and since the 1970s has developed amazing 3D projection performances known as the Nervous System.
Paul Sharits, Piece Mandala/End War, 1966, 3 min
Paul Sharits produced a series of outstanding 'flicker' films in which rapid changes of colour result in perceptual hallucinations. Piece Mandala/End War is a concise and remarkable example of his stroboscopic style.
Shirley Clarke, Bridges Go Round, 1958, 8 min
Shots of immobile New York bridges are choreographically edited and printed in a way such that they appear to dance. The footage is repeated twice, once with a score by jazz arranger Teo Macero and again with a composition by electronic music pioneers Louis and Bebe Barron (best known for their soundtrack to The Forbidden Planet).
Bruce Baillie, Mass (for the Dakota Sioux), 1964, 24 min
A sombre examination of the American experience and a critique of modern society. Baillie masterfully combines footage from television, movies, film diaries and specially staged scenes to present a densely layered requiem dedicated to the Native American Indians.
Robert Breer, 69, 1968, 5 min
Robert Breer, whose films present continually evolving ideas in a witty, gentle style, is one of the most original and respected animators of the experimental movement. 69 is a kinetic investigation of geometric forms, building visual tension by rapidly alternating images.
Robert Nelson, Oh Dem Watermelons, 1965, 12 min
A classic underground romp starring the San Francisco Mime Troop and a dozen watermelons. The fruit is put through every possible use and treatment for comic effect and social comment. Minimalist composer Steve Reich arranged the soundtrack.
---