Date:
8 October 2000 |
Season:
Leeds Film Festival 2000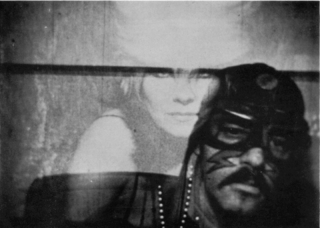 BRITISH AVANT-GARDE: AN INTRODUCTION TO THE LONDON FILM-MAKERS' COOPERATIVE
Sunday 8 October 2000, at 5:30pm
Leeds City Art Gallery
In 1966, influenced by the apparent success of the Film-Makers' Cooperative run by Jonas Mekas in New York, a group of English film devotees came together to form the London Filmmakers' Coop. At this time, the London art film scene centred on the liberal Better Books store, managed by concrete poet Bob Cobbing. In the basement of the shop, Cobbing mounted exhibitions, happenings and held screenings of early American avant-garde films by Maya Deren, Kenneth Anger, Stan Brakhage and others. Nearby, the UFO and Middle Earth night-clubs also showed underground films to accompany all-night concerts by psychedelic rock groups like The Pink Floyd and Soft Machine.
At first, the London Coop was populated more by viewers than filmmakers, and the distribution collection comprised mainly of films from the USA, which had remained in London after the critic P. Adams Sitney had completed his New American Cinema tour of Europe. Only a few maverick characters such as Jeff Keen and Anthony Balch had made original works free of the conventional BFI Production Board. Following the Coop's relocation to the Arts Laboratory, which resulted in changes in leading personal, new members of the group began to actively produce films as printing and processing facilities were provided in-house for their use. From this time on, the more anarchic, carefree approach embodied in the films of Steve Dwoskin (an American ex-pat with links to Andy Warhol's Factory and who's films featured the New York underground stars), gave way to a more formal style led by fellow countryman Peter Gidal, and former painter Malcolm Le Grice, who both exerted an enormous influence through their innovative work and tireless activities. Exerting his influence on the next wave of filmmakers through screenings, writings and teaching, Le Grice became the leading light of the English avant-garde.
By the early 1970s, hundreds of films were being produced in a variety of personal styles. Access to the coop's home-made equipment led to much investigation of the film material, as seen in the early films of Guy Sherwin and Lis Rhodes, which directly use the printing process to give the film its form and content. Many English filmmakers, including Mike Dunford and Annabel Nicolson, analysed the possibilities of re-filming projected images, in a similar manner to Ken Jacobs' Tom, Tom the Piper's Son (screening on October 14th). Dwoskin used this technique in Dirty, to reinterpret some of his early erotic footage. Le Grice, Gidal, Du Cane and Crosswaite were more in line with the purist Structural film movement, while Breakwell's Repertory and the films of John Smith (see separate programme), used humour to disguise formal concerns.
After collaborating on the two-screen film River Yar (1972), Chris Welsby and William Raban led a tradition of British landscape film, often using time-lapse photography to portray the environment. Jeff Keen and John Latham were renegades, independent of the Coop community, creating singular works mixing live action and animation. Many of the filmmakers represented in this programme ventured beyond the accepted boundaries of filming to make multi-screen or expanded cinema events.
The LFMC continued to struggle with problems of funding and location until being re-housed in the purpose built facility in 1998. In this more clinical and businesslike environment, the Coop unfortunately lost much of its character and community spirit. Financial problems in recent years led to a merger with London Electronic Arts, a similar organisation representing artists' video. The Lux Centre for Film, Video and Digital Arts now comprises of a unique cinema, video art gallery and an unparalleled distribution outlet.
Ian Breakwell, Repertory, UK, 1973, 9 min
Guy Sherwin, At The Academy, UK, 1974, 5 min
John Du Cane, Relative Duration, UK, 1973, 10 min
Malcolm Le Grice, Threshold, UK, 1972, 10 min
Peter Gidal, Hall, UK, 1968-69, 10 min
David Crosswaite, The Man With The Movie Camera, UK, 1973, 8 min
William Raban, Angles Of Incidence, UK, 1973, 12 min
Chris Welsby, Park Film, UK, 1972, 7 min
Lis Rhodes, Dresden Dynamo, UK, 1974, 5 min
Stephen Dwoskin, Dirty, UK, 1965-67, 10 min
Jeff Keen, Marvo Movie, UK, 1967, 5 min
John Latham, Speak, UK, 1968-69, 11 min
The programme will be introduced by curator Mark Webber.
---