Date:
8 October 2000 |
Season:
Leeds Film Festival 2000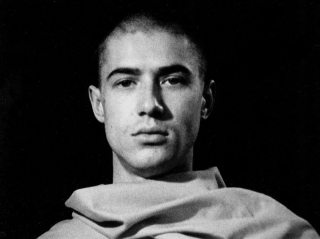 BRITISH AVANT-GARDE: WORDS AND PICTURES BY JOHN SMITH
Sunday 8 October 2000, at 9pm
Leeds City Art Gallery
The films of John Smith conduct a serious investigation into the combination of sound and image, but unlike many more po-faced formal filmmakers, Smith does so with a sense of humour that reaches out beyond the traditional avant-garde audience. His films move between narrative and absurdity, constantly undermining the traditional relationship between the visual and aural. By blurring the perceived boundaries of experimental film, fiction and documentary, Smith never deliveries what he has led the spectator to expect. In very short films such as Om (1986) and Gargantuan (1992), Smith slowly reveals that nothing is quite as it seems.
Associations (1975) interprets a reading from "Word Associations and Linguistic Theory" by offering a cinematic game of rebus, in which words are replaced by pictures taken from magazines. The heavy academic spoken text is mocked by a series of ridiculous visual puns. In The Girl Chewing Gum (1976), an authoritative voice-over appears to direct the everyday events taking place on a street corner in Hackney. As the film develops, the narrator skilfully impairs our understanding, creating ambiguity from that which appears straightforward.
Smith's work often focuses on an obsession with mundane details, a technique best displayed in The Black Tower (1987), in which a vision of a tower on every horizon leads to a subtle descent into madness. His award winning film Blight, a collaboration with composer Jocelyn Pook, creates a fictional reality while documenting the demolition of houses to make way for the controversial M11 link road.
John Smith, Om, UK, 1986, 4 min
John Smith, Association, UK, 1975, 7 min
John Smith, Leading Light, UK, 1975, 11 min
John Smith, The Girl Chewing Gum, UK, 1976, 12 min
John Smith, The Black Tower, UK, 1985-87, 24 min
John Smith, Gargantuan, UK, 1992, 1 min
John Smith, Blight, UK, 1994-96, 14 min
John Smith, The Waste Land, UK, 1999, 5 min
John Smith & Ian Bourn, The Kiss, UK, 1999, 5 min
John Smith will be present to introduce and discuss his films. Two videotapes of his work are available from the Lux Centre in London.
---