Date:
17 October 1999 |
Season:
Leeds Film Festival 1999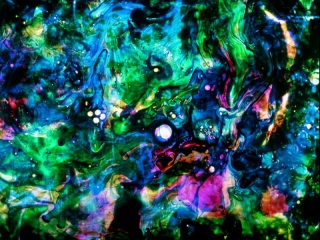 STAN BRAKHAGE SPECIAL PROGRAMME
Leeds City Art Gallery
Sunday 17 October 1999, at 2pm
Five short films by Stan Brakhage will follow the screening of Jim Shedden's documentary on the legendary filmmaker.
Stan Brakhage, Mothlight, USA, 1963, 4 min
Made without a camera, Mothlight was constructed by sandwiching moth wings, flowers and other organic matter between two strips of clear Mylar editing tape. This collage was then printed on 16mm film. The image, which rapidly flashes by, is regarded by the filmmaker to be "as a moth might see from birth to death if black were white".
Stan Brakhage, Reflections on Black, USA, 1955, 12 min
The visions of a blind man depict an erotic and aesthetic quest, which transcends the distinction between fantasy and reality. This angst-ridden drama of relationships in a New York tenement building is an early example of Brakhage's rejection of sound, which he believes interferes with the purity and clarity of vision.
Stan Brakhage, Night Music, USA, 1986, 30 sec
Stan Brakhage, Rage Net, USA, 1988, 30 sec
Stan Brakhage, Glaze of Cathexis, USA, 1990, 4 min
In recent decades, Brakhage has concentrated his efforts mainly on "moving visual thinking", created by painting directly onto film, or physically scratching into the emulsion. Night Music was originally painted on IMAX but has unfortunately never been presented in that format. Rage Net and Glaze of Cathexis both trace psychological states through hypnotic rushes of colour and form.
---