Date:
26 May 2002 |
Season:
Shoot Shoot Shoot 2002
|
Tags:
Shoot Shoot Shoot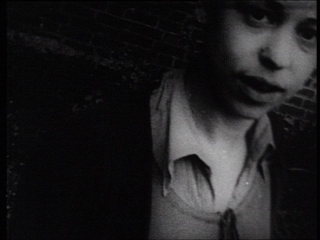 DIVERSIFICATIONS
Sunday 26 May 2002, at 3pm
London Tate Modern
From personal montage through to exploration of the cinematic process, the work was sensuous and playful. As a creative group, the Co-op covered vital aesthetic ground and resisted categorisation. This programme does not pursue a single theme or concept, rather it demonstrates the broad range of work that was produced during this time.
The exposition section of Annabel Nicolson's Shapes reveals its tactile evolution, as visible dirt is made evident by the step-printing technique. Moving into real time, the multiple layers of superimposition present strange spatial dimensions as the filmmaker toys with light, moving among the paper structures in her room. Footsteps engages the camera (viewer) in a playful game of "statues". The film was often presented as a live performance in which Marilyn Halford crept up on her own projected likeness. Le Grice's Talla adopts an almost mythical pose. Images slowly encroach on the frame as the visual tension rises, later to explode in spectacularly bending, twisting single-frame bursts. The brief, rapid-fire collage White Lite by Jeff Keen is made up of baffling layers of live action, stop-motion, obliteration and assemblage. Anne Rees-Mogg's Muybridge Film, in homage to the pioneer of motion photography, constructs a playful film by breaking down a sequence into its constituent frames. Moment is an unmediated look, erotic but not explicit, as saturated as its celluloid. It's a key work of Dwoskin's early sensual portraits of solitary girls, in which the returning stare challenges our objective / subjective gaze. Chris Welsby's Windmill II is one of a series in which propeller blades rotate in front of the camera, acting as a second shutter, controlled by an unpredictable and natural force. In this instance, the blades are backed with a reflective material that offers a glance back at the recording device intermittent with the zoetropic view of the park. In The Girl Chewing Gum, by John Smith, the narration appears to direct everyday life before breaking down, causing the viewer to question the accepted relationship between sound and image, the suggestive power of language. Chinese images and slogans are transformed by split-screen, ingrained dirt and hand-held photography to create a visual pun in Ian Kerr's film, from "Persisting in our struggle" to Persisting in our vision.
Annabel Nicolson, Shapes, 1970, colour, silent, 7 min (18fps)
Marilyn Halford, Footsteps, 1974, b/w, sound, 6 min
Malcolm Le Grice, Talla, 1968, b/w, silent, 20 min
Jeff Keen, White Lite, 1968, b/w, silent, 2.5 min
Anne Rees-Mogg, Muybridge Film, 1975, b/w, silent, 5 min
Stephen Dwoskin, Moment, 1968, colour, sound, 12 min
Chris Welsby, Windmill II, 1973, colour, sound, 10 min
John Smith, The Girl Chewing Gum, 1976, b/w, sound, 12 min
Ian Kerr, Persisting, 1975, colour, sound, 10 min
Screening introduced by Marilyn Halford
PROGRAMME NOTES
---