Date:
23 May 2007 |
Season:
Shoot Shoot Shoot 2006
|
Tags:
Shoot Shoot Shoot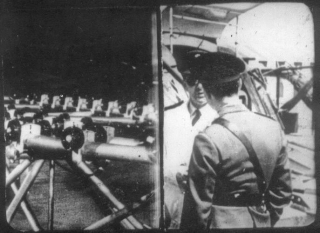 SHOOT SHOOT SHOOT: EXPANDED CINEMA
Wednesday 23 May 2007, at 7PM
Wrexham Arts Centre
Beginning in the 1960s, artists at the London Film-Makers' Co-operative experimented with multiple projection, live performance and film environments. In liberating cinema from traditional theatrical presentation, they broke down the barrier between screen and audience, and extended the creative act to the moment of exhibition. "Shoot Shoot Shoot" presents historic works of Expanded Cinema, for which each screening is a unique, collective experience, in stark contrast to contemporary video installations. In Line Describing a Cone, a film projected through smoke, light becomes an apparently solid, sculptural presence, whilst other works for multiple projection create dynamic relationships between images and sounds.
Malcolm Le Grice, Castle Two, 1968, b/w, sound, 32 min (2 screens)
Sally Potter, Play, 1971, b/w & colour, silent, 7 min (2 screens)
William Raban, Diagonal, 1973, colour, sound, 6 min (3 screens)
Gill Eatherley, Hand Grenade, 1971, colour, sound, 8 min (3 screens)
Lis Rhodes, Light Music, 1975-77, b/w, sound, 20 min (2 screens)
Anthony McCall, Line Describing A Cone, 1973, b/w, silent, 30 min. (1 screen, smoke)
Curated by Mark Webber. Presented in association with LUX.
PROGRAMME NOTES
---