Date:
13 October 2006 |
Season:
Shoot Shoot Shoot 2006
|
Tags:
Shoot Shoot Shoot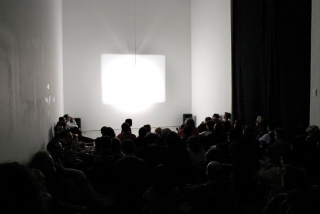 NOTHING IN COMMON: 40 YEARS OF THE LONDON FILM-MAKERS' COOP
Friday 13 October 2006, at 5pm
London Frieze Art Fair
The London Film-Makers' Co-operative (LFMC) was established 40 years ago today, on 13 October 1966. An artist-led project, it incorporated a distribution collection, screening room and film workshop. It grew from an informal film society into one of the major international centres of avant-garde cinema and its films form the basis of the current LUX collection. Many LFMC filmmakers experimented with projection techniques, creating expanded cinema performances, installations and multi-screen films, with artists such as Malcolm Le Grice prefiguring much of contemporary practice with his remarkable body of work. In Castle One, made from scraps of footage found outside commercial film labs, a photoflood light bulb is hung directly in front of the screen and flashed intermittently during projection, bleaching out the image, illuminating the screening room and breaking down the relationship between film and audience. Gill Eatherley's Aperture Sweep, from her 'Light Occupations' series of film related activities, is a double screen performance in which Eatherley, armed with a broom (amplified to be both seen and heard), appears to sweep the screen clean for future projections. Both pieces attempt a kind of erasure of the onscreen image, conceptually and physically challenging the roles of maker and spectator.
Malcolm Le Grice, Castle One, UK, 1966, 16mm/performance, 20 min
Gill Eatherley, Aperture Sweep, UK, 1973, 16mm/performance, 10 min
'Nothing in Common', curated by Mark Webber, is a special presentation of The Artists Cinema.
---