Date:
10 November 2006 |
Season:
Shoot Shoot Shoot 2006
|
Tags:
Shoot Shoot Shoot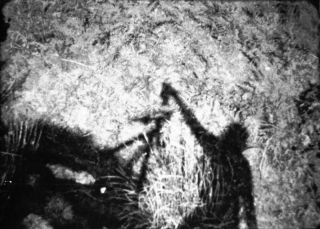 SHOOT SHOOT SHOOT: BRITISH AVANT-GARDE FILM OF THE 1960s & 1970s
November 2006 – May 2008
International Touring Programme

The 1960s and 1970s were groundbreaking decades in which independent filmmakers challenged cinematic convention. In England, much of the innovation took place at the London Film-Makers' Co-operative, an artist-led organisation that enabled filmmakers to control every aspect of the creative process. LFMC members conducted an investigation of celluloid that echoed contemporary developments in painting and sculpture. During this same period, British filmmakers also made significant innovations in the field of 'expanded cinema', creating multi-screen projections, film environments and live performance pieces.
The physical production of a film (its printing and processing) became integral to its form and content as Malcolm Le Grice, Lis Rhodes, Peter Gidal and others explored the material and mechanics of cinema, making radical new works that contributed to a new visual language. The London Film-Makers' Co-operative, which was established on 13th October 1966, grew from a film society at the heart of London's sixties counterculture to become Europe's largest distributor of experimental cinema and was recognised internationally as a major centre for avant-garde film.
"Shoot Shoot Shoot: The First Decade of the London Film-Makers' Co-operative & British Avant-Garde Film 1966-76" was a major research and exhibition project that toured worldwide from 2002-04. The original 8 programme package of single screen films, multiple projection works and expanded cinema performances that was shown at 19 venues including London Tate Modern, Gateshead Baltic, Basel Kunsthalle, Barcelona Fundaçio Antoní Tapies, Athens Desté Foundation, Tokyo Image Forum and the Melbourne International Film Festival.
This new package is being made available on the 40th anniversary of the LFMC to support the release of the DVD "Shoot Shoot Shoot: British Avant-Garde Film of the 1960s & 1970s" in Autumn 2006. The two programmes contain several films that are not on the DVD and some which were not included in the original tour.
10 & 11 November 2006, London Tate Modern
3 February 2007, Birmingham MAC
29 March 2007, Glasgow Transmission Gallery
25 April 2007, Osnabruck European Media Art Festival
29 May 2007, Nottingham Broadway Cinema and Media Centre (Programme 2 only)
13 & 14 June 2007, Brussels Cinémathèque royale de Belgique
25 & 30 September 2007, Zagreb 25 FPS Festival
16 October 2007, Portland Cinema Project
27 October 2007, Pittsburgh Filmmakers
8 & 9 November 2007, Rochester Visual Studies Workshop
24 & 25 November 2007, Toronto Cinematheque Ontario
29 January & 5 February 2008, Milwaukee Union Theatre
4 & 11 March 2008, Berkeley Pacific Film Archive
2 & 16 March 2008, Los Angeles Filmforum
27 & 31 May 2008, Zurich Videoex
"Shoot Shoot Shoot" is a LUX project. Curated by Mark Webber.
---