Date:
14 October 2002 |
Season:
Oyvind Fahlstrom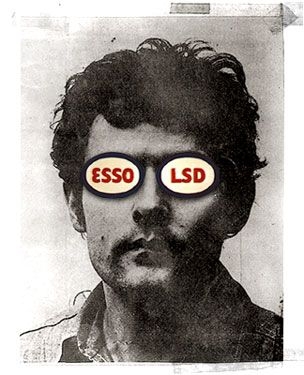 ÖYVIND FAHLSTROM & SWEDISH AVANT-GARDE FILM
14 October–24 November 2002
Gateshead BALTIC Centre
Since the 1950s, the artist Öyvind Fahlström pursued an interest in the moving image. The use of illustration and collage in his paintings and graphic work show a clear affinity to cinema and the use of film as a means of artistic expression. He was an active member of Arbetsgruppen För Film (aka Filmform); an artist-led organisation dedicated to the production and promotion of avant-garde film, and made experimental tv documentaries, home movies and the radical feature film Du Gamla Du Fria (which takes its name from the Swedish national anthem).
One of the earliest films ever made by an artist was Symphonie Diagonale by the Swedish painter Viking Eggeling in the early 1920s, but independent film did not become established in Sweden until the post-war period, at which time personal psychodramas and city symphonies were made by filmmakers such as Gösta Werner, Peter Weiss and Nils Jönsson.
Avant-garde film flourished as a potent artform in the 1960s counterculture. The artists Åke Karlung and Erling Johansson made extraordinary films as part of their wider creative practice, using animation to assemble mixtures of painting, sculpture and live action. Other filmmakers, including Hans Esselius and Jan Håfström used cinema to make potent social commentary, attacking the modern political and industrial establishment. Fahlström himself made the satirical, psychedelic found-footage film U-barn for the Swedish Film Institute. In the 70s and 80s, Åsa Sjöström, Olle Hedman Anne-Sofi Sidén and others continued to experiment with the medium as a punk ethos brought the work back-to-basics.
The artist Gunvor Nelson lived and worked in San Francisco for many years, though she never lost her close connection to the culture and character of her birthplace. Gunvor will be at BALTIC to present two programmes of her work, featuring both her unique collage techniques and her deeply personal films about family relationships.
In this brief history of the Swedish avant-garde, examples of Fahlström's own work will be shown alongside rare screenings of films by those who still remain widely unknown outside their homeland.
---