Date:
23 November 2002 |
Season:
Oyvind Fahlstrom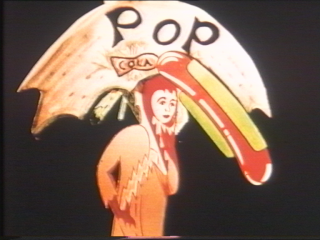 ANIMATION & ASSEMBLAGE
Saturday 23 November 2002, at 6pm
Gateshead BALTIC Centre

An outstanding programme of animations by three filmmakers. Åke Karlung was a mixed media artist working on the fringes of the establishment, and made several remarkable works that densely combine collage and live action. The films of painter Erling Johansson are unique fusions of pop art, Swedish folklore and Sami culture. Jan Håfström made two stately and timeless works which seem to exist outside of the modern world, being composed almost exclusively of still photographs, illustrations and engravings.
Åke Karlung, Aliena Kadabra, 1969, colour, sound, 6m
Åke Karlung, Generalrepetition För Självmord, 1963, colour, sound, 3m
Åke Karlung, Homo Ludens, 1964, colour, silent, 4m
Åke Karlung, Det Värdelösa Leendet, 1964, colour, sound, 6m
Erling Johansson, Anima Mundi, 1962-67, b/w, sound, 12m
Erling Johansson, Expulsi, 1969-70, b/w & colour, sound, 17m
Jan Håfström, Orienten, 1969, b/w, sound, 16m
Jan Håfström & Claes Söderquist, Le Genie Civil, 1967, b/w, sound, 11m
---