Date:
19 November 2002 |
Season:
Oyvind Fahlstrom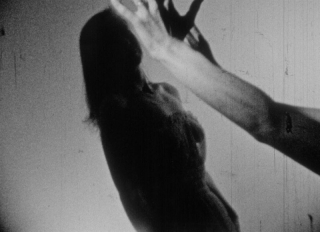 THE EARLY AVANT-GARDE
Tuesday 19 November 2002, at 6pm
Gateshead BALTIC Centre

Diagonalsymfonin, made in Berlin by Swedish painter Viking Eggeling is one of the earliest examples of 'visual music' or moving painting. Gösta Werner's Midvinterblot, a startling and realistic portrayal of Bronze Age human sacrifice, shocked audiences in the 1940s. In the post-war period, the film avant-garde was dominated by psychodramas such as De Vita Händerna (a homemade 8mm version of the Tristan and Isolde legend) and the early films of author Peter Weiss (hallucinatory compositions of human bodies). X, by Moderna Museet director Pontus Hultén, is a jazzy mixture of animation and found-footage. The final four films are 'city symphonies'; portraits of the architecture and inhabitants of Stockholm, one of Europe's great cities. The down-trodden men of the old town are the subjects of the cinema-verite Ansikten I Skugga (Faces in the Shadow).
Viking Eggeling, Diagonalsymfonin, 1923-24, b/w, silent, 8m
Gösta Werner, Midvinterblot, 1945, b/w, sound, 12m
Rut Hillarp, De Vita Händerna, 1950, b/w, sound, 17m
Peter Weiss, Studie I, 1952, b/w, sound, 6m
Peter Weiss, Studie II / Hallucinationer, 1952, b/w, sound, 6m
Peter Weiss, Växelspel, 1955, b/w, sound, 8m
Pontus Hultén, X, 1954, colour, sound, 7m
Nils Jönsson, Morgon (Vision), 1949-56, b/w, sound, 6m
Kjell Nilsson, Storstadens Fötter, 1952, b/w, sound, 5m
Rolf Nilson & Ralph Lundsten, Storstadens Puls, 1963, b/w, sound, 3m
Peter Weiss, Ansikten I Skugga, 1957, b/w, sound, 12m
---